News and events
Jonathan Shanklin's visit. More...
Automated technology to run the science through the winter is being developed. See Halley Automation.
There will be no wintering party in 2019.
Start of the 2018/19 season: "A team of specialists at Halley Research Station begin a new project to automate scientific instruments that capture data such as ozone concentration, space weather and upper atmosphere observations. At the same time, glaciologists will be investigating the latest behaviour of the Brunt Ice Shelf." (BAS Press Release; 30 Oct 2018)
Summer fieldwork begins. (BAS News Story; 11 Dec 2018)
Station closes for the 2019 winter after a successful summer season. It will re-open in November. (BAS News Story; 27 Feb 2019)
'No role' for climate in Halley iceberg splitting. (BBC Report; 9 Apr 2020)
Loss penguin colony confirmed. Penguins now at the Dawson-Lambton (BAS Press Release; 25 Apr 2019) See also here.
Farewell to the RRS Ernest Shackleton. (BAS News Story; 30 April 2019)
Engineers automate science from remote Antarctic station. (BAS Press Release; 25 June 2019); BBC version
Earth from Space: Halloween crack. (ESA video; 1 Nov 2019)
Field season gets under way. (BAS News Story; 8 Jan 2021)
New crack seen from space. (NASA Earth Oservatory; 12 Jan 2021)
Large (1270 kmē) iceberg breaks from the Brunt Ice Shelf. (BAS Press Release; 26 Feb 2021) See also Ade's Glacier Gallery.
A74 iceberg brushes past the West Brunt. Details here. 13 Aug 2021.
Update 20 Nov 2021 here. 21 Nov 2021.
Automation in place at Halley VI, BAS News Story here. 4 Mar 2022.
The West Brunt Ice Shelf calved on 22 Jan 2023. BAS Press Release. See also time lapse video below. Past data here.
Report of 2022-2023 the summer season here. 22 Mar 2022.
Brunt Ice Shelf speeds up after calving of giant iceberg. BAS Press Release.
Video
Iceberg A81 calves from Brunt Ice Shelf. Adrian Luckman's time lapse video of the calving. More details here.
Pictures
2022 New Year ; Picture by Michael Drewitt
Halley VI Site Map ; 11 Nov 2020. (Click on the image for a full resolution version)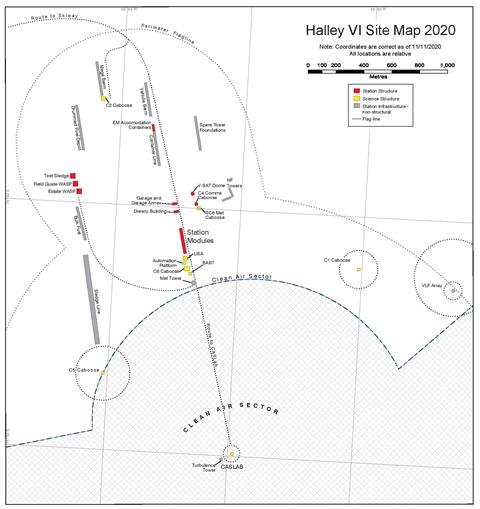 Supplied by Thomas Barningham

The memorial at Halley VIa, January 2020. Photos by Thomas Barningham.