I feel I should inform you of a small gathering of Halley Fids and partners that took place in Switzerland in February this year that would be good for the website!

Through my Uncle & Aunties Climbing club, Buxton Mountaineers, I had the opportunity to go on a group Ski trip to the resort of Torgon, in the Portes du Soleil region. My daughter happened to be working a ski season there so myself and my wife Claire took the opportunity to visit and get a week's skiing in at the same time. As there were spare places up for grabs I took a chance at inviting a handful of ex-Halley Fids....... and I got some very quick replies to my e-mail!! (If you ever want to get a quick response from fids, invite them on a Budget Ski Holiday!!!) So in the last week of Jan this year we met up in Torgon. Switzerland, with ex-Fids and partners travelling from different parts of the country to meet up in either Geneva with the main group, and a further 2 parties driving direct to the resort from France and Germany where they are now living and working.
Group (11 in total)
Dale & Claire Heaton, Shropshire, (Builder - Halley 85/86)
Paul and Pauline Aslin, North Wales, (AIS - Halley 86/87)
Ben Chappell, Milton Keynes, (Met man -Halley 86/87)
Tony Maggs, Torquay Devon (Dr. Halley 86)
Phil Anderson and Dana, West Coast, Scotland (Physicist- Halley 86/91)
Toby & Nicky Clark, Paris, France (VLF - Halley 85/86)
Gary Whitehead (Met/Ozone - Halley 86/87)
Most of us haven't met up for years and in some cases decades, however the sense of immediate ease and friendship was instantly apparent as we recounted old and new experiences alike. The weather and snow conditions were mixed throughout the week, but we all managed to get at least 5 days good skiing in and 6 nights of socializing!! The Goldtest Centre in Torgon, booked through 'The Ski Company' was more catered for larger groups and school parties, and it had the feel of a large Halley Base, therefore we were instantly at home. Toby brought a guitar and a few old favourite songs were sung, Nic Jones Penguin Eggs, Phil sang us 'the Halley Anthem' from his 1991 days, and Toby even dug out a different worded version of 'English Country Garden' we had once done for a mid-winter extravaganza.
Phil and Ben wowed us with their musicality on the guitar and round the grand piano
Toby never failed to recount long forgotten stories from our Halley days
Tony, eloquent as ever, managed to still take the P. out of us all without us even knowing it!!
Paul as ever was the Skiier to follow in speed, style and ability to read a ski map with ease!
Gary has certainly not lost his ability to destroy things and managed to take out a ski fence and also on a separate occasion snapped both is ski poles in half!! But he was forever a gentleman chaperoning my wife Claire on a lovely day out in Montreax which was a real bonus day for them both.
Despite us all now in different walks of life, nothing could take away the friendship that was made from our time down south, and let's hope this will not be the last ski reunion together. The week came to an end all too quickly, so now heres looking fwd. to catching up with them all again and more at the Z60 RE-union in October.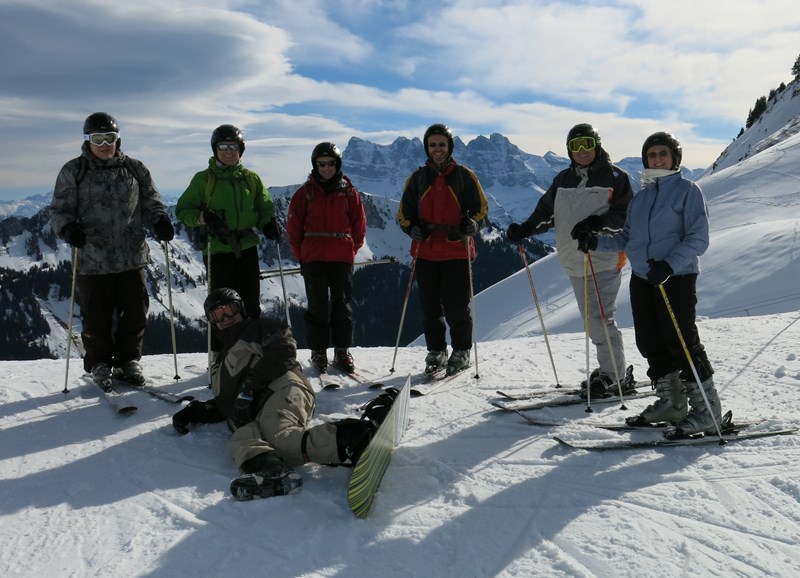 Ski group pic; Standing Left to Right. Ben C. Dale H. Phil A. Paul A. Tony M. Pauline A. Lolling about at the front, Toby C.