The British Antarctic Survey Sledge Dog Memorial
Update - March 2009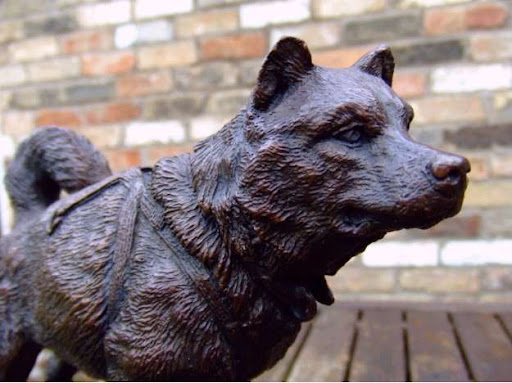 First bronze model approx 10inches high
Last month we had a meeting at the British Antarctic Survey Headquarters in Cambridge and from that meeting it was agreed that the Bronze will be set at the entrance to the BAS Building.
Statue will be set where the central clump of greenery now grows
The full size statue is being cast from an enlargement of the model and will be in position for the opening of the Memorial Garden at the BAS Club AGM on Saturday 4th July 2009. It is planned that there will be an 'Official Opening' at a later date. We expect to be able to provide much more information next month as the final casting is completed, but at this stage all looks to be progressing smoothly. Thanks to the contributions of FIDs and friends from all over the world the project will be completed in less than 3 years; an amazing achievement.
Graham Wright & Hwfa Jones March 2009