The British Antarctic Sledge Dog Memorial
Update - February 2008
Below are the final Husky drawings for the bronze memorial sculpture. Both artists have refined their drawings in light of research and many comments sent by FIDS from all over the world. The time to choose has arrived.
Please log your preference  to Graham Wright, details below. Any suggestions for improvement will be gratefully received.
Final drawing by David Cemmick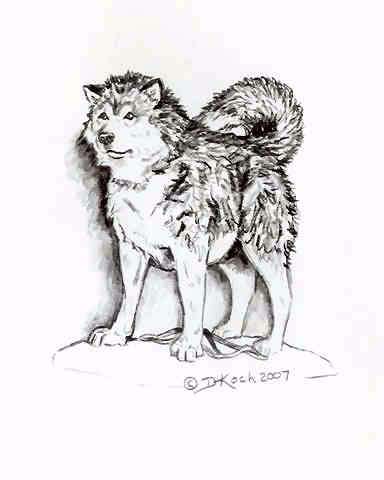 Final drawing by Denise Koch
Once commissioned, there will be a full size clay model produced for final approval before the bronze is cast. Photographs of this will also be circulated.
The Fund stands at almost £4000 and is close to the target of £6000. It is our intention to commission the statue within the next month or so in anticipation that the total will be achieved this year. The £4000 has been collected in the short period of just 15 months from many sources and donations including sales of the book "The Doggy Men ", the auction of the Mike Skidmore painting of Changi and the latest venture:- a detailed historical print of one of our Dog Teams sledging on sea ice. The book and print are still for sale from the Treasurer or online from eBay (item numbers 330194912226 and 330195066619); and it's not too late to make a donation.
It is anticipated that the final sculpture will have beneath it a plaque listing all the British dog teams together with a small engraving and an appropriate dedication; again your views are welcomed.
We expect to have the bronze finished this year and ready for erecting at whatever place is finally decided upon whether in Antarctica or possibly in Cambridge.
--
Best wishes - Hwfa Jones (Secretary); Graham Wright (Treasurer for the Fund)
Hwfa.jones@googlemail.com
Graham@forklift-attachments.co.uk