The British Antarctic Sledge Dog Memorial
Update - November 2007
It's just about a year now since a few FIDS got together and decided to do something to record the contribution of British Sledge Dogs to the British Antarctic Survey.
With a minimum of fuss a small team got together. Graham Wright would act as Treasurer; Hwfa Jones would do the secretarial work. Richard Harbour kindly offered to liaise with the BAS Club. Publicity was freely given by Andy Smith of Z-fids, Paul Ward of Cool Antarctica and Sue Hamilton of The Fan Hitch. Brigid Wainwright and Keith Holmes provided information and research, plus many others too numerous to name who contacted us with information and help. We had in fact an ad hoc committee of hundreds of FIDS and friends.
The Treasurer Graham Wright has informed me that The Fund now stands at over £3000.
The growth of the fund to the target of £6000 and the casting of a full size dog is now certain. We expect to commission the bronze sculpture of a typical British Antarctic Husky early in the New Year 2008 together with a plaque naming all the British Antarctic Dog Teams.
We are currently looking at locations in Antarctica to site the memorial and were delighted to accept Chris Rapley's offer kind offer of transportation South when the time comes.
As I write this two sculptors are making final adjustments to their drawings and models to take account of the comments from all the FIDS who have made suggestions to improve the early sketches. The sculptors have in addition looked at hundreds of photographs of dogs to make the bronze as typical as we can remember. It is likely that one of the sculptors will cast the dog and the other the memorial plaque.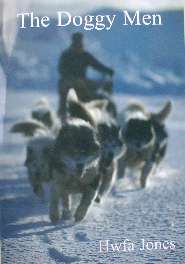 The Doggy Men book ; written to 'kick-start' the Fund continues to sell albeit slowly now, so we have commissioned Mike Skidmore to paint a very detailed and historically accurate scene of a typical BAS dog team pulling a loaded sledge in Antarctica (called: - British Antarctic Survey Dog Team Sledging on Sea Ice). The painting is meticulously accurate and a unique record of dog sledging in British Antarctic Territory. A limited number of beautiful art prints have been made of this scene at £15 including postage, proceeds to the Fund.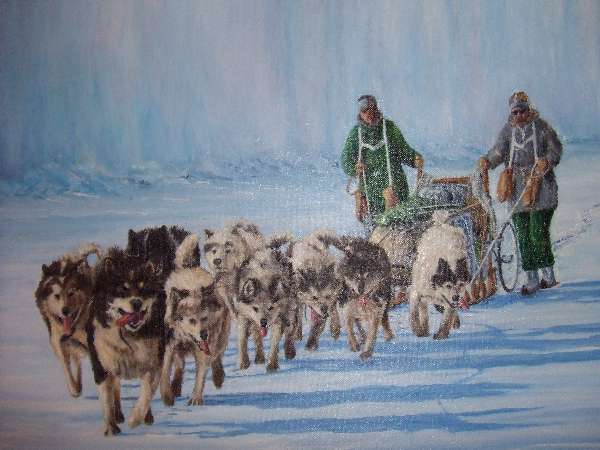 Donations continue to come in from people all over the world and many FIDS have suggested ways to boost the Fund. One small example of this is another recent offer by Michael Skidmore.
Mike has generously offered The Fund a portrait of Changi - the lead dog with the Hobbits in the late 60's and early 70's. The painting (pictured below in its frame) is now open to bids. Please send your bid to the Treasurer of the Fund, Graham Wright. (Top bid at the moment is £250.) Bidding we hope will be facilitated for international bidders by putting the picture on eBay on 1st December and the auction will end on the 10th. The winner will also get a record of Changi's sledging journeys assembled from his dog card and submissions from those who sledged with him all over the Antarctic plateau, sea ice, shelf ice and the Shackleton Mountains.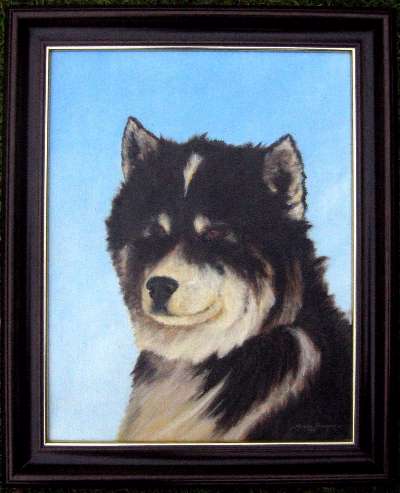 ANY DONATIONS TO THE FUND CAN BE MADE TO:-
Graham Wright, Treasurer
Antarctic Sledge Dog Memorial Fund
39 Bryn Meadows
Newtown Powys SY16 2DS
Tel: 01686 624077 (wk. 01686611206)
Email: gwright@mid-wales.net
Cheques (UK Bank only please) should be to "The Sledge Dog Memorial Fund". Please include your postal address and name so donors to the fund can be recorded.
Paypal can be used with any credit card to :- hwfa.jones@googlemail.com
Postage £1 per book UK, or £2.50 overseas - or the actual postage cost if you require more than 1 copy - email Graham or estimate this and send enough to cover postage.
Postage free for 'Sledging on Sea Ice' fine art print From Hwfa Jones (address/email below) or Mike Skidmore's web pages.
For any additional information on the fund please continue to look at the pages on Z Fids, Cool Antarctica and The Fan Hitch or contact:-
Hwfa Jones
47 Penkett Road
Wallasey, Merseyside CH45 7QG
Tel: 0151 201 0249
Email: hwfa.jones@googlemail.com